"If you want a female, why waste your time trapping males?!" you may wonder...Well, there's a couple good reasons:
"Mesu ga hoshii nara naze osu bakkari tsukamatte iru kana?" to omowareru kamoshirenai kedo ikutsuka no riyu ga arimasu:
a) Now that I want to keep one to train a memo has been sent out and the females have gone in to hiding. I'm just not seeing females!
Yappari majime ni trapping shite mesu wo te ni ireyo to omottara osu bakkari wo mite imasu. Mesu wa naka naka mitsukaranai!
b)
I wanted to see if my new sparrow harness design worked (problems with sparrows getting out of the harness last time) so I threw it out for the first bird of the day which, surprise surprise, happen to be a male:
Tsukutta suzume no jaketto wa amecho wo tsukamaru kadouka tameshite mitakatta. Hajimete mita amecho wa osu deshita. Sugu ni tsukamatta! Yokatta!
It works!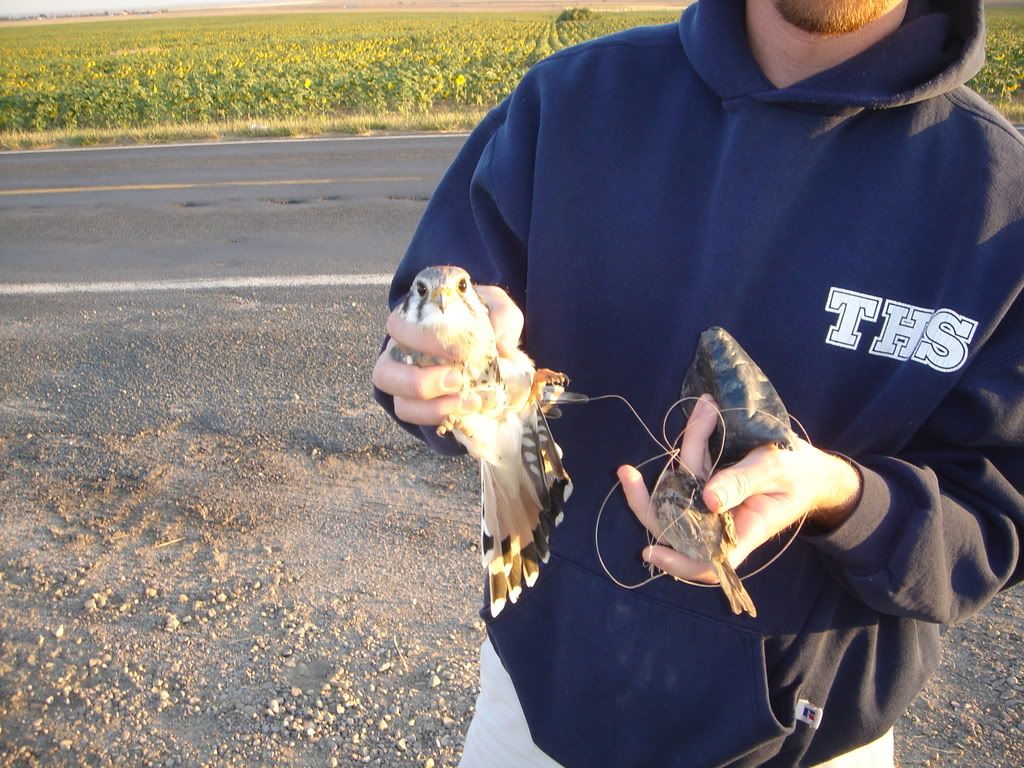 c)
Since I had some friends with me who were experiencing trapping for the first time I still wanted to throw the trap for any kestrel we saw...and we saw a LOT of males!
Hajimete trapping shi ni itta tomodachi wo tsurette ikimashita node nan no amecho demo ii to omotte mita amecho no subete ni wana wo dashimashita. Hotondo osu bakkari deshita.
I discovered that the sparrow isn't likely to survive an attack in the harness though and since my sparrow supply is limited at the moment I decided to use the BC for the rest of the day. I suppose if I had seen exactly what I wanted I would've sacrificed another sparrow but meh, there's still lots of time to trap.
Jaketto wo tsukau to suzume ga shinde shimau node mesu jyanakattara futsu no wana wo tsukaimashita.
I'm a happy trapper but I'm out for keeps now, hopefully sometime this week...
Tanoshikatta kedo kore kara mesu wo neraimasu. Konshu tsukamaru kana...